bay harbor, michigan weddings
Tucked away on the southern side of Little Traverse Bay is the global destination community of Bay Harbor. High-end luxury resorts, marinas, real estate opportunities, and a charming main street lined with shops and restaurants, are the focal points of this stunning waterfront community.

Located between Petoskey and Charlevoix, Bay Harbor encompasses a world class hotel, conference/event center, marina, equestrian facility, and golf resort.

Bay Harbor has become known for its revolutionary events including an annual Winter Ice Festival, Art Fair, Vintage Car & Boat Festival, In Water Boat Show and Fishing Tournament. Bay Harbor has been meticulously designed to provide an ultimate lifestyle to all those who visit, offering an elite collection of lifestyles, including some of the most amazing and stunning wedding venues in Northern Michigan.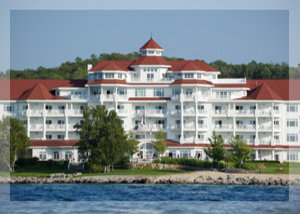 Waterfront resorts, a spectacular marina district, magnificent architecture, and a prestine, manicured environment make Bay Harbor a true jewel of the north. Stroll five miles of private Lake Michigan shoreline or walk endless paths along golf courses and the marina district. Bay Harbor is a visually breath-taking destination offering the perfect location for an exquisite Up North wedding in Northern Michigan. Planning the perfect Bay Harbor wedding will be truly seamless and memorable to everyone in attendance.

Commercial air service to Bay Harbor via Delta/Northwest is available at Pellston Regional Airport Cherry Capitol Airport in Traverse City. By car, Bay Harbor is accessible via I-75 and US-131.

For additional information on Bay Harbor, please visit the links below:

Bay Harbor www.bayharbor.com

Bay Harbor Gallery